Awards



Atomic Time Synchronizer 17
Keeps your PC clock accurately synchronized
Atomic Time Synchronizer is a useful and handy utility to keep your PC clock accurate.
It periodically checks and synchronizes your computer clock with NIST atomic time servers, or synchronizes time between computers. It can also act as a time server.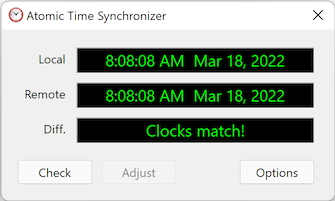 Atom Time Synchronizer: Accurate Time for your PC

Free trial version ( zip or exe)

Buy Now £ 69.95

Why Atomic Time Synchronizer?
First and foremost, Microsoft Windows (11/10/7) keeps losing or gaining time. You need a more accurate PC clock.

For reliability purposes, Atomic Time Synchronizer uses multiple redundant time servers to ensure that your PC clock is accurate even when some of the time servers are offline.

Atomic Time Synchronizer works with all Windows versions, from Windows 7 to the latest Windows 11, and can run as a Windows service.


Key Features of Atomic Time Synchronizer



Synchronizes time with NIST atomic time servers


Synchronizes time between computers


Can act as a time server


Can run as a Windows service



Supports SNTP (the Simple Network time protocol)


Supports the TIME protocol


Can be invoked at the command line, and called in batch files


Can synchronize time with any server running SNTP or TIME protocol


Periodically checks and synchronizes time



Displays time in either local time or UTC/GMT


Can monitor Windows time change event, and adjust automatically


Easy to use and configure



Available in English, Nederlands, Deutsch, français, Italiano, español, Português, 简体中文, 繁體中文, Русский, magyar, עברית, svenska, polski, suomi, norsk (bokmål), Türkçe, ภาษาไทย, 한국어, فارسی, Ελληνικά, and română