Outlook Email Address Extractor 17
Extract Email Addresses from Outlook mail folders with ease
Outlook Email Address Extractor is a handy tool to extract email addresses and names from your Outlook emails (mail folders). It retrieves all valid email addresses and automatically removes duplicates.
Outlook Email Extractor is compatible with the latest version of Microsoft Outlook, and supports both 32-bit and 64-bit Outlook.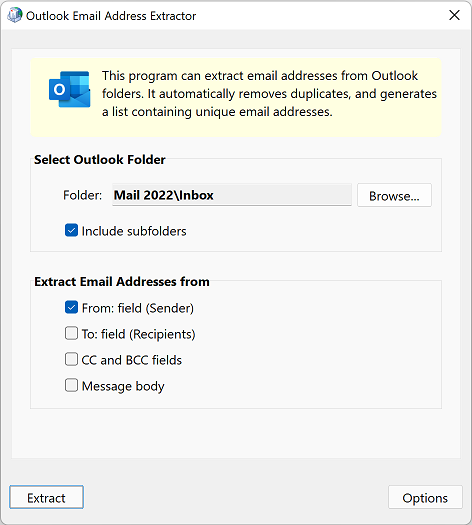 ---
Order Outlook Email Address Extractor 17
£ 129.95 per license

Outlook Email Extractor is licensed on a per-user basis (i.e., each user needs a license)

We accept:

Pay using Bitcoin, Ethereum, Litecoin, Polkadot, and ...
---
We're happy to accept cryptocurrencies. Please click the links below for payment instructions.

After sending your cryptocurrency payment, please email us. We'll then send you the license key and download link.
---
See also:


Outlook Attachment Extractor, extract file attachments and pictures from Outlook.


Email Extractor for Windows, extract email addresses from popular file formats, such as text, PDF, Word, Excel, and zip files.


Email Extractor for macOS, extract email addresses from Apple Mail, Outlook for Mac, and a wide array of popular file formats.


e-Campaign, send bulk email to your mailing lists.
Outlook Email Extractor, Extract Email Addresses from Outlook Emails, Extract Outlook Email Addresses, Outlook Extractor